Watch Jason Isbell and Amanda Shires Cover Warren Zevon's "Mutineer" on Letterman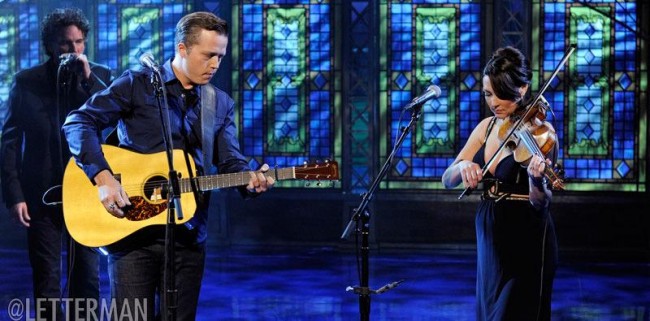 As we've said repeatedly, Dave Letterman's nights as a talk show host are dwindling down to when he will end his tenure on May 20th.  Letterman has been stacking the deck musically, and at the end of Friday's show Jason Isbell, his wife, Amanda Shires, and Willie Nelson's harmonica player Mickey Raphael, joined to pay homage to one of Letterman's (and our) favorite musicians, Warren Zevon.  The trio performed Zevon's heart-rending Mutineer, which Zevon performed on the Letterman Show in his final public appearance (for the entire show that night) before he was taken by cancer.  It's not the first time Isbell/Shires have covered the song.  Watch below, and then afterwards watch Zevon's stirring performance of the song that night on the Letterman Show in 2002.
Grab your coat–let's get out of here.  Not a dry eye in the house.
And if you want to hear another reason why we sorely miss Warren Zevon, go HERE.
Lyrics:
"Yo ho ho and a bottle of rum
Hoist the mainsail – here I come
Ain't no room on board for the insincere
You're my witness
I'm your mutineer
I was born to rock the boat
Some may sink but we will float
Grab your coat – let's get out of here
You're my witness
I'm your mutineer
Long ago we laughed at shadows
Lightning flashed and thunder followed us
It could never find us here
You're my witness
I'm your mutineer
Long ago we laughed at shadows
Lightning flashed and thunder followed us
It could never find us here
You're my witness
I'm your mutineer
I was born to rock the boat
Some may sink but we will float
Grab your coat – let's get out of here
You're my witness
I'm your mutineer
You're my witness
I'm your mutineer
I'm your mutineer"