Listen to The National's New Song "Carin At The Liquor Store"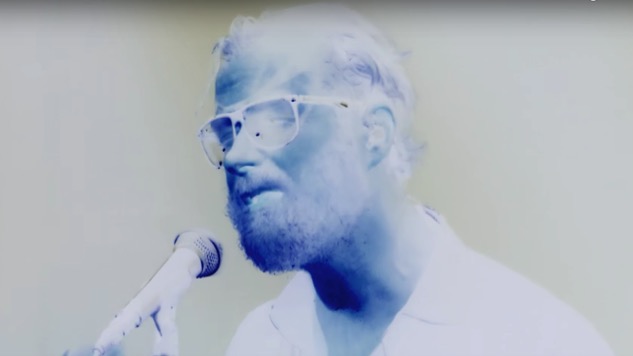 One month from today longtime Lefort-faves The National will release their highly-anticipated next album Sleep Well Beast. So far we've sampled two phenomenal tracks from the album: The System Only Dreams in Total Darkness and Guilty Party. Catchy. Evolving. All stations go. Let 'er rip.
But wait. Now comes newly-released song Carin at the Liquor Store, and we're a bit perplexed. Listen below. While the song touches all The National ballad bases (forlorn piano ruminations, Matt Berninger's signature mourn, etc.) and even adds on more Dessner-guitar exhibitions, we just can't sink our teeth into anything meaningful in the song's lyrics (at bottom). Some of it is that it doesn't evoke much from behind its oblique elusions (and we're fans of lyrical vagueness). And some of it is that this territory (infatuation, complicated by crass-behavior and self-doubt) seems to have been mined before by Berninger to better effect. For a band and lyricist that have made such emotional marks with us, it's a rare disappointment. Nous aimons ça, mais non trop. You may hear the song differently–if so, do tell. Here's hoping for more meat on the album's remaining song-bones.
Sleep Well Beast will be released September 8th on 4AD. You can pre-order the album HERE.
"I was a war, I was a creature
I get on the ground the second I'd see you
You cannot come buy your love
I wasn't a catch, I wasn't a keeper
I was walking around like I was the one who found dead John Cheever
Hand in glove
So blame it on me
I really don't care
It's a foregone conclusion
I see you in stations and on invitations
You'd fall into rivers with friends on the weekends
Innocent skies above
Carin at the liquor store, I can't wait to see you
I'm walking around like I was the one who found dead John Cheever
In the house of love
So blame it on me
I really don't care
It's a foregone conclusion
It wasn't so bad, I wasn't that sick
Got taken by love, I wasn't that quick
Foregone conclusion
It's gonna be different after tonight
You're gonna see me in a different light
It's a foregone conclusion
So blame it on me
I really don't care
It's a foregone conclusion
I'm already seeing stars in the air
It's a foregone conclusion"