"Together" with Hosannas–Q&A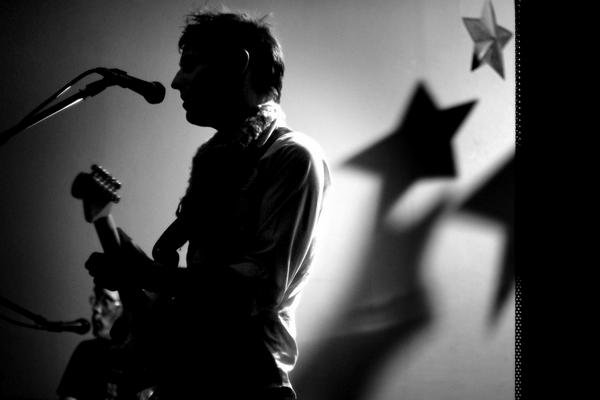 Hosannas have just embarked on their "Gigantosaur Tour" (tour dates listed way below) and are coming to Muddy Waters in Santa Barbara next Tuesday, September 21st.  We caught them at the Muddy when they last played there in May.  It's rare when a band can wow you live when you haven't heard a single song of theirs prior to attending, but wowed we were by the intelligence, complexity and delivery of this band and their songs.  We highly recommend you attend next Tuesday at the Muddy, where the up-and-coming Gardens and Villa will open.  Touring this time, Hosannas will be comprised only of brothers Brandon and Richard Laws, after a recent lineup change.   Coincident with the tour, on October 12th Hosannas will be releasing their new record "Together" (on their own label, Tree Farm, in partnership with HUSH), which was recorded, mixed and produced with John Askew in Portland at Scenic Burrows Studio and Type Foundry.   To prepare, you can check out their great new song, When We Were Young, off the new record here.
In advance of their arrival, we caught up with Brandon Laws via email for the following interview:
The last time we saw you in Santa Barbara you were going to have your nose re-set the next day after a run-in a few nights prior in NorCal.  So how have those kick-boxing lessons and target-practices worked out for you in preparation for this tour?
I still owe on those hospital bills… but at least the nose is straight now.  In all seriousness we are skipping the venue where that happened.
You and your brother (and others) have been building on Hosannas for a few years.  How did you get into music and start up the band?  Who or what influenced you to begin?  Were you guys self-taught or guided?
We didn't have a particularly musical immediate family, I remember getting my first guitar when i was a teen and really into heavy metal.  My mom is pretty conservative and I think that initially there was an aspect of rebellion to it… We have both studied music in college and on our own.  Richard has been trained classically on upright bass and spent several years playing in jazz groups.  I have spent many years in my bedroom making pretty weird pop music.
You grew up where, and then did you college or not?
We are actually from Northern California (Sonoma County).  And I went to UCSB.
Were you a Music major at UCSB or did you just take some classes?
I was there for 3 years (graduated early) with a degree in Poli-Sci and a minor in Music.
Where did Richard college and is that where he studied classical bass and play jazz?  Who are your and Richard's jazz faves, and can you point to any jazz-influenced moments in Hosannas?
He studied privately from Mel Graves (who was then teaching at Sonoma State), and before that Richard went to Santa Rosa Community College where he took a bunch of music classes and got his AA.  We also both took private lessons for several years.  Richard is a more heavily into jazz than I am.  I've always really liked the stuff by Thelonious Monk and Charles Mingus and less known stuff like Penguin Cafe Orchestra [Lefort:  A great British chamber ensemble well worth checking out]. Richard isn't with me or he would list a dozen or so jazz faves.  We don't really play jazz music, but we are definitely into improvisation, and we'll be releasing a live e.p. next spring that has some pretty free moments on it.  Jazz has always appeared in our music more in the live setting than on record.
I've read that the band has been influenced by Kraftwerk and Beach Boys, and we hear that.  But what other influences, both old and recent, have helped to make up the Hosannas sound?  How would you describe that sound?
So many influences.  Every album I've been really into has had an influence.  As of late we have been listening to a lot of synth music from the Seventies like Tomita and Yellow Magic Orchestra.   I'm also pretty into new electronic music like F!@#ck Buttons [Lefort:  What is with all these new F-bomb entitled bands?] and Caribou.  Overall there has been a lot of more traditional music mixed in too, a lot of Doo Wop and a great deal of foreign music.  A lot of music from India is amazing.  A couple years ago I found several boxes of cassette tapes from all over the world.  We'll usually bring 30 or so tapes along for tour and find something inspiring there.
The second part of that question is very difficult for me to answer.  We have a brand new set for this tour that doesn't share that much in common with what came before.  More a cappella.  But also more intense noisy stuff.
And along those lines, given your great guitar playing and sound, which players influenced that sound and are there particular current players who influence/inspire you?
Honestly my favorite guitar player is Reine Fiske from the Swedish band Dungen.  If you ever get a chance to see them play you definitely should go.  I really like Neil Young too, but who doesn't?
Are you sure about this Dungen thing?
Definitely. They're a Swedish psychadelic-pop band. In Swedish Dungen means grove or meadow.  Check them out: http://www.myspace.com/dungen
We're curious about your songwriting process.  We read about how you trade off instruments sometimes to write the music (which we've experienced as a catalyst at times too).  Does the music always come first or is it sometimes lyrics?
Either way.  We try to write songs with as little ornamentation as possible; just a feeling, a melodic idea and some chords.  Everything gets complex and layered later in the process.
Are the lyrics usually biographical or fiction?  Where do lyrics fall in importance?  Is there a particular stanza from one of your songs that you're proud of?
We don't really weave stories into our lyrics.  Some of the songs are about events or relationships or feelings.  Richard just wrote a song that I really like the lyrics to.  I get this part stuck in my head all day:
"meet me somewhere in between,
dark fallen trees
and newly sprouted things,
meet me somewhere in between
the words themselves
and what they mean
won't you meet me somewhere…"
Which of your songs is your favorite and why?
My most recent favorite is a song called "Open Your Doors" that will be on our new record.  I wrote it for a friend who was really depressed and the process of writing it impacted me quite a bit.  The song is about recognizing a low point in your life as just that and realizing that you can be in control of how you feel and what happens to you.
We think we know the worst experience you've had on the road, but is there a "best ever" experience live and how so?
There are too many amazing experiences to remember them all.  I like playing festivals and all-ages shows a lot.  We played MFNW last year, and that was a huge party.  I also remember playing a show where we had five drummers, and that was really awesome.
We are playing a sort of secret show in a cave half a mile under the earth that I have pretty high expectations for.
We understand the band has gone through recent personnel changes, and that you and your brother will be playing as a duo on your impending tour.  When was the last time you guys toured in this configuration?  What will be the positives and negatives of this, if any? How do you see Hosannas' personnel developing in the future?
We started out as just the two of us, but we hadn't actually played any shows as a two-piece until this summer.  We just played a few shows out in Idaho and Washington as a kind of warm up for the tour, and I am really stoked on it being just the two of us.  I was initially worried that we wouldn't be loud enough, but we are playing out of five amps so those fears are long gone. The biggest positive is that we can tour in a car and not have to bring our huge, gas-guzzling van.  We'll save a lot of money and it will be easier on the environment. As far as personnel in the future we have ideas but nothing specific yet.  I would like to be able to change up the sound of the band quite a bit from tour to tour. As in, do a tour where you have five or six great singers and make that a focus.  And then do a tour with a big horn section and strings.
Hosannas is releasing a new record in October.  How, if at all, is the new record different from prior releases?
We spent a lot more time on it.  It's quite a bit darker than our previous albums. I like to think that it is better.  It is recorded better.  We worked with John Askew, who is a magician when it comes to making instruments sit in the mix.  So we were able to get away with a lot of really dense stuff that wouldn't have sounded as good had we recorded it ourselves.
Is there a particular theme or tact musically or lyrically in the new record?
We didn't really have an over-arching theme musically or lyrically for the album. We did have a method for the process of writing it which was to be as open to collaboration and new directions as possible.
What excites you about the new record?
It is energetic and we had enough time and instruments at our disposal to make a whole lot of unique sounds happen.
As you mentioned, former Santa Barbaran, John Askew, recorded and produced the new record.   How was that process?  What did John add to the mix?  Describe the recording process on the new record.
John has a great ear. And most importantly he is very easy for us to relate to musically.  He was very open to experimentation and knew how to make what seemed impossible happen.  We did all the initial tracking with him at Type Foundry in Portland, and then we did overdubs for a few weeks afterward at Scenic Burrows mostly by ourselves but he would drop in every other day or so and help us get sounds/provide shamanic guidance.
Hosannas has just released a new song titled "When We Were Young."  What can you tell us about this particular song and why it's the first song released?  What's the lyrical bent?
We decided on this one for the single because it is the most immediate and also because we wanted something that was positive and energetic.   It's basically a celebration of the fleeting beauty of youth.
Can you tell us about the art of side-chaining?
I'll do my best! I'm really stoked on this question! Side-chaining is a method of compression whereby one instrument triggers the amount of compression on another.  Compression, for those who may not know, is an effect that reduces the volume of the loudest parts of a signal.  Side-chaining, when used drastically, which we like to do, can make some pretty intense pumping rhythms out of instruments that don't really have them to begin with.  For example, if you side-chain a backing vocal with a snare drum track the vocal will pump in and out of volume along with the drums.
Can you point to an example of side-chaining that is discernible to the ear?
One of our next singles (not sure what order we are releasing them) is called "Multi-Chamber American Future" and that song is built around a groove where the synth bass (my foot-pedals) are side-chained to the bass drum.
What are you looking forward to/dreading during the upcoming tour?  Do you have a favorite venue?
I am looking forward to Canada.  We have never played there and we have about a week's worth of shows in Ontario and Quebec.  I'm not dreading anything.  I'm not sure I have a favorite venue.
What is your favorite record and song of all time, and what is the best concert you have ever attended?
I have seen Dungen live twice and both times it has been incredible.  I also really love seeing Akron/Family live.  We've had the pleasure of getting to play with them a couple times this year, and they always have such good energy.
And finally, we were asked to ask how the Hosannas groupies ("Hoopies"?) are out on the road?
I don't know if we have any groupies.  But we do enjoy the baked goods that we have been given.
Circle in the Square added some great recent video of Brandon and Richard.  Check it out: