The National Releases "Day I Die"– the 4th Song from Impending Album "Sleep Well Beast"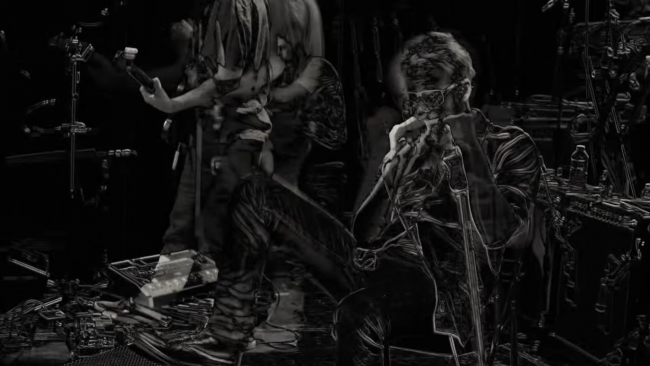 On September 8th long-time faves The National will release their new album Sleep Well Best on 4AD. We've already heard/seen the first three songs: The System Only Dreams in Total Darkness, Guilty Party, and CCarin at the Liquor Store (seriously, that "dead John Cheever" bit–huh?).
Now the band has released the fourth song off the album, Day I Die, via the song's official video. The video was directed by Casey Reas who had this to say about the video in a press release: "Graham MacIndoe captured 18 time-lapse photo series during rehearsals at Le Centquatre in June 2017 in Paris. Hours of rehearsal are compressed into a few minutes. Over 5,000 of these photographs were brought together to create the final video. I wrote custom software to collage multiple photographs together and to compile them into videos. A flickering color layer abstracted from broadcast television signals augments the black and white footage. The images are played back at 12fps, near the threshold of the persistence of vision."
Check the video out below. Day I Die is classic The National, replete with references to "great uncle Valentine Jester," who may or may not be someone's re-imagined great uncle or a pseudonym therefor, and how does uncle relate to the departed daughter Val Jester who appeared on Alligator. Mere conjecture about a jester's Jester. The song's lyrics are at bottom.
For those wanting to get a better feel for the new songs performed live, on September 5th World Cafe and NPR Music will host a First Listen Live performance which can be streamed HERE.
The band will venture out on in September on a nearly sold-out worldwide tour. The band announced today that a "Sunday matinee" (huh? how can that be for this band who performs best in total darkness) has been added at the Greek Theater in Berkeley on October 15th.  Tickets on sale for the latter this Thursday.
You can pre-order Sleep Well Beast HERE.
Day I Die
"I don't need you. I don't need you.
Besides I barely ever see you anymore,
and when I do it feels like you're only halfway there.
Young mothers love me, even ghosts of girlfriends
call from Cleveland—they will meet me
any time and anywhere.
The day I die, day I die, where will we be?
The day I die, day I die, where will we be?
Don't do this, I don't do this to you.
And don't expect me to enjoy it.
Because I really don't have the courage not to turn the volume up
inside my ears. For years I used to put my head inside
the speakers in the hallway
when you'd get too high and talk forever.
The day I die, day I die, where will we be?
The day I die, day I die, where will we be?
The day I die, day I die, where will we be?
The day I die, day I die, where will we be?
I get a little punchy with the vodka just like my great uncle Valentine Jester did
when he had to deal with those people like you who made no goddam common sense.
I'd rather walk all the way home right now than to spend one more second in this place.
I'm exactly like you Valentine. Just come outside and leave with me.
Let's just get high enough to see our problems.
Let's just get high enough to see our father's houses.
The day I die, day I die, where will we be?
The day I die, day I die, where will we be?
The day I die, day I die, where will we be?
The day I die, day I die, where will we be?"