Watch Phoebe Bridgers' Phenomenal Tiny Desk Concert–Playing Homecoming Show on 12/16 at the Lodge Room in LA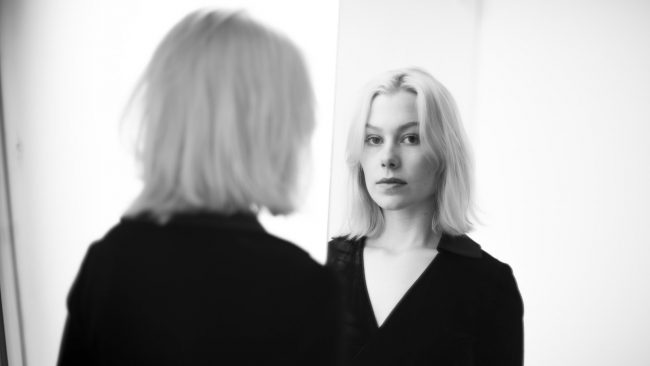 In spite or because of last year's election results and the long-overdue Weinstein-exposé and its aftermath, this year has seemingly brought forth even more phenomenal female performers and performances than usual to provide a show of strength and counter-balance. We've recently lauded a few of these up-and-coming female artists (Miya Folick, Julien Baker and Alyeska), but could rattle on forever other names of forceful female artists that we've praised (Feist, Solange, Courtney Barnett, Janelle Monae, Sharon Van Etten, Torres, Jamila Woods, Kathleen Edwards, Hurray For the Riff Raff, Aimee Mann, Aldous Harding, Hundred Waters, NoName, Sza, Margaret Glaspy, St. Beauty, Eskimaux, Waxahatchee, Jesca Hoop (more on her soon), Laura Marling, Eleanor Friedberger, Jessica Lea Mayfield, etc., etc., etc.).
A particularly noteworthy new female artist is Phoebe Bridgers about whom we recently wrote. Bridgers recently performed on NPR's Tiny Desk Concert series and you can watch it below. Particularly mesmerizing and powerful is the stripped-down rendering of Motion Sickness (one of our Best Songs of 2017) and, given Manson's recent death, the older Killer.
Bridgers will headline a homecoming concert at the Lodge Room in LA on December 16th. Catch her if you can! Tickets can be found HERE.
Bridgers will head off to Europe in March and you can find dates/tickets HERE.
Oh, and she's currently performing on KCRW if you're quick.