May, 2017 Archives
by Lefort in Music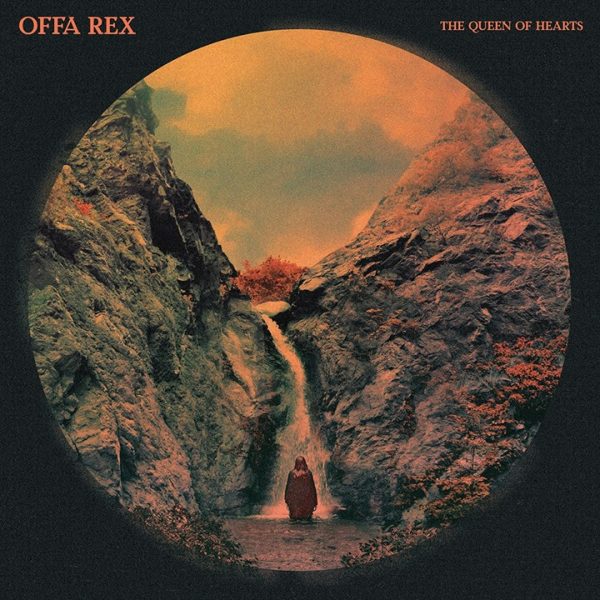 Long-time Lefort-faves The Decemberists have combined with British folk revivalist Olivia Chaney to form OFFA REX.  The Decemberists' Colin Meloy described the project thus:
"A few years ago, I had a chance to hear a record by a fantastic artist, one Olivia Chaney. She made a record called The Longest River and I was so taken by it, particularly her arrangement of the old folk song "The False Bride." She seemed to me to be channeling the great female folk singers of the British folk revival: Sandy Denny, Anne Briggs, June Tabor, Norma & Lal Waterson, Shirley Collins and Maddy Prior. We invited her to open a bunch of Decemberists shows in 2015 and afterward I made a pitch to her: let us be the Albion Dance Band to your Shirley Collins. Let's start a band. Let's make a record of old folk songs that will be as much about rediscovering ancient songs as it is an homage to that incredible era of British music, the 60s and 70s folk revival. She, very kindly, agreed.
You can listen [below] to The Queen of Hearts, a song we learned from Martin Carthy. It's about heartbreak in the face of unrequited love; to my ears it's as fresh today as it was when it was written three hundred years ago. That's kind of the spirit of the record."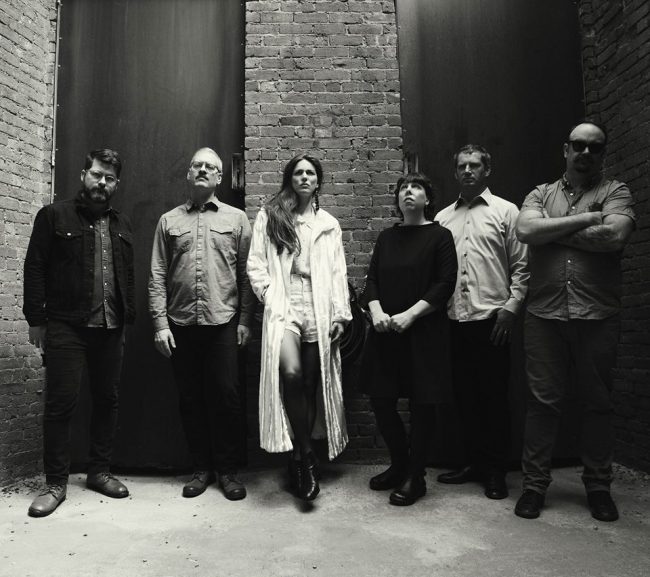 Check the performance video out below of the traditional song in all its updated, treacly-harpsichord, and breathless-vocal beauty.
Offa Rex will be playing a pair of shows in Portland and New York City in late July, leading into XPoNential Festival in Philadelphia and Newport Folk Festival. Along with The Decemberists own festival in Missoula, Montana in August.
And expect to see Offa Rex appear, mid-set, for a couple songs when Chaney opens The Decemberists' summer tour dates. You can find all of the details HERE.
The Queen of Hearts album will be released July 7th via Nonesuch Records and you can pre-order it HERE.
by Lefort in Music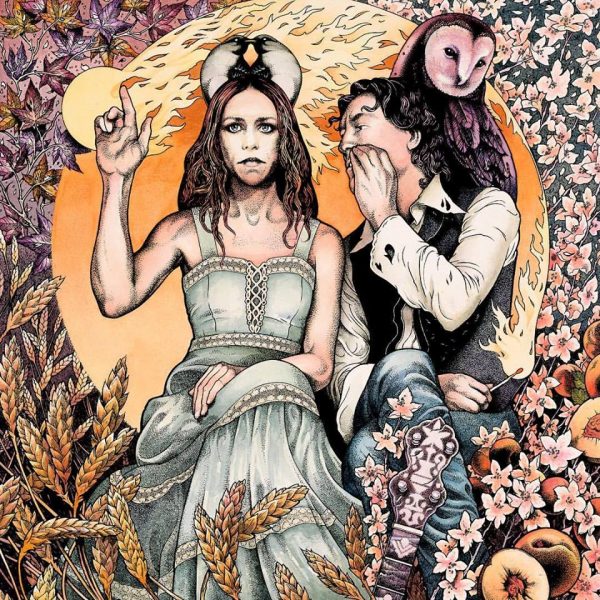 Gillian Welch's last studio album The Harrow & The Harvest was high on our list of Best Albums of 2011 (a high water year for albums). Today Welch announced that that album will finally be released on vinyl (her first vinyl ever) this summer (see updated album cover artwork above). In making the announcement Welch said in a press release:
"We have been working and waiting 20 years to bring you our music on phonograph record. It took a while, because we wanted to do it the right way, the absolute best way humanly possible, and I believe that's what we've done. No sonic stone was left unturned, no nuance let fall by the wayside. There is honestly nothing else I can imagine hoping to hear out of the original tapes. It is all there in the groove. As people whose lives were changed by the sound of music coming off turntables, we humbly invite you to include us in your record collection."
Along with the announcement, Welch unveiled a new video for languid, masterful Dark Turn Of Mind off the album (lyrics at bottom).  Watch it below in all its black and white beauty (as created by director Reid Long from footage shot by Benjamin Kutsko).
The Harrow & The Harvest vinly will be released on July 28th on Acony Records and you can pre-order it HERE.
Dark Turn Of Mind:
"Take me and love me if you want me
Don't ever treat me unkind
Cause I had that trouble already
And it left me with a dark turn of mind
Now I see the bones in the river
And I feel the wind through the pine
And I hear the shadows a-calling
To a girl with a dark turn of mind
But oh ain't the nighttime so lovely to see?
Don't all the nightbirds sing sweetly?
You'll never know how happy I'll be
When the sun's going down
And leave me if I'm feeling too lonely
Full as the fruit on the vine
You know some girls are bright as the morning
And some have a dark turn of mind
You know some girls are bright as the morning
And some girls are blessed with a dark turn of mind"
by Lefort in Music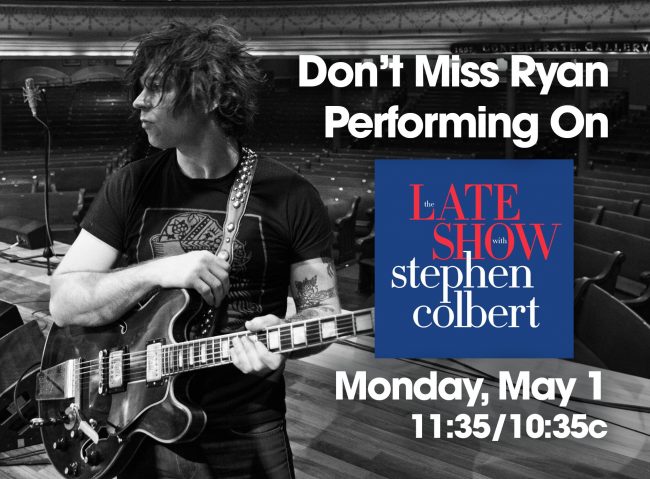 Ryan Adams was on Colbert last night, and he gave a powerful performance of his broken-hearted song Outbound Train off of this year's revitalized, critically-acclaimed Prisoner album (notably, his most-highly rated album on Metacritic). Watch the performance below (lyrics at bottom).
After giving a rousing show last August at the Santa Barbara Bowl, Adams will return to Santa Barbara to play the Granada Theater on June 1st. You can still get tickets HERE.  Go there.
Outbound Train:
"How am I supposed to know
When it's time to go
In the middle of the night
When I'm all alone
Don't know what to do
Don't know what I'm even supposed to say
Like a train gonna go
Well it's not a-rolling yet
The cars don't move in the middle of the night
Lost inside the void of the fading tail lights
I swear I wasn't lonely when I met you, girl
But I was so bored, I was so bored
I don't know anything anymore
I got this achin' in my chest
Rollin' around like a pile of bones
In a broken little box
It sounds a lot like you
Laughing to yourself
In a quiet room
Our eyes knowing more than they probably ought to
The cars don't know move in the middle of the night
Lost inside the void of the fading tail lights
I swear I wasn't lonely when I met you, girlBut I was so bored, I was so bored
I was so sure, I was so bored
I was so bored, I was so bored
I don't know anything anymoreThe walls are all cracked
The fan stutters in the room
Where we slept
Where I woke up next to you
Sometimes a man don't know
When he's got to walk away
I hear a rumbling and a moan
I feel like an outbound trainThe cars don't know move in the middle of the night
Lost inside the void of the fading tail lights
I swear I wasn't lonely when I met you, girlBut I was so bored, I was so bored
I was so sure, I was so bored, I was so bored
I was so sure, I was so sure
I was so sure
I was so sure
I was so sure
I was so sure
I don't know anything anymore"