'Art' Category Archives
by Lefort in Art
You know David Hockney.  But did you know he's a proponent of painting on iPhones?
CBC and Studio Q continue to deliver great content in all genres.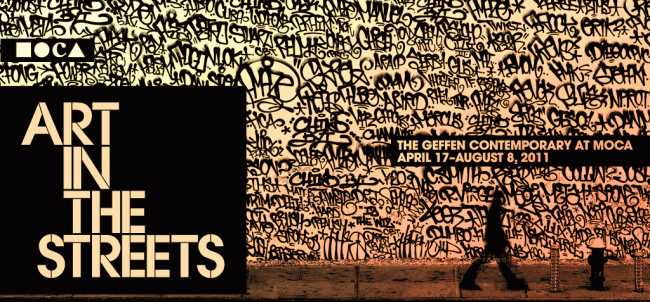 We encourage you to head down to LA's Geffen Contemporary at the Museum of Contemporary Art (MOCA) to check out the current exhibit of street art featuring the likes of Banksy, Shepard Fairey and a host of other great street artists.  The exhibit is up until August 8th.
MOCA's press release is set forth below.
"The Museum of Contemporary Art presents Art in the Streets, the first major U.S. museum exhibition of the history of graffiti and street art. The exhibition will trace the development of graffiti and street art from the 1970s to the global movement it has become today, concentrating on key cities where a unique visual language or attitude has evolved. Following MOCA's presentation, the exhibition will travel to the Brooklyn Museum, where it will be on view March 30–July 8, 2012.
Art in the Streets will showcase installations by 50 of the most dynamic artists from the graffiti and street art community, including Fab 5 Freddy (New York), Lee Quiñones (New York), Futura (New York), Margaret Kilgallen (San Francisco), Swoon (New York), Shepard Fairey (Los Angeles), Os Gemeos (São Paulo), and JR (Paris). MOCA's exhibition will emphasize Los Angeles's role in the evolution of graffiti and street art, with special sections dedicated to cholo graffiti and Dogtown skateboard culture. The exhibition will feature projects by influential local artists such as Craig R. Stecyk III, Chaz Bojórquez, Mister Cartoon, RETNA, SABER, REVOK, and RISK.
A special emphasis will be placed on photographers and filmmakers who documented graffiti and street art culture including Martha Cooper, Henry Chalfant, James Prigoff, Steve Grody, Gusmano Cesaretti, Estevan Oriol, Ed Templeton, Larry Clark, Terry Richardson, and Spike Jonze. A comprehensive timeline illustrated with artwork, photography, video, and ephemera will provide further historical context for the exhibition.
Art in the Streets will feature several shows within the show. There will be a special section dedicated to the Fun Gallery, which connected New York graffiti artists with the downtown art community in the early 1980s. Co-curated by gallery founder Patti Astor, the Fun Gallery installation will feature the work of Keith Haring, Jean-Michel Basquiat, and the graffiti artists who shaped the gallery's history. A section dedicated to the seminal film Wild Style (1983), co-curated by the film's director Charlie Ahearn, will document its influence on the global dissemination of graffiti and hip-hop culture. The exhibition will also feature a memorial presentation of Battle Station, a rarely seen work by legendary artist and theorist RAMMELLZEE, and a display of graffiti black books and other historic works from the Martin Wong Collection presented in collaboration with the Museum of the City of New York. A highlight of the exhibition will be a Los Angeles version of Street Market, a re-creation of an urban street complete with overturned trucks by Todd James, Barry McGee, and Steve Powers.
The exhibition will open with a skate ramp designed by pro-skater Lance Mountain and artist Geoff McFetridge. Skate demonstrations by the Nike SB skate team will be held onsite for the duration of the exhibition.
"Art in the Streets will be the first exhibition to position the work of the most influential artists to emerge from street culture in the context of contemporary art history," said MOCA Director Jeffrey Deitch.
"This quintessentially urban and dynamic partnership between the Brooklyn Museum and MOCA began with the 2005 Brooklyn-organized exhibition of the work of Jean-Michel Basquiat, the consummate American street artist of his generation; continued with the MOCA-organized ©MURAKAMI in 2007, defining critical elements of worldwide street art; and now culminates with a groundbreaking exhibition devoted entirely to street art and graffiti," said Brooklyn Museum Director Arnold L. Lehman. "The partnership has, in itself, provided a major record of public art over the past half century."
Art in the Streets is organized by Jeffrey Deitch and associate curators Roger Gastman and Aaron Rose. Gastman is the author of The History of American Graffiti, which will be released in April 2011, and was a consulting producer on the film Exit Through The Gift Shop. Rose curated the exhibition Beautiful Losers and directed the related documentary film. Ethel Seno, editor of Trespass: A History of Uncommissioned Urban Art, is the curatorial coordinator of the exhibition. The Brooklyn Museum's presentation will be organized by Managing Curator of Exhibitions Sharon Matt Atkins."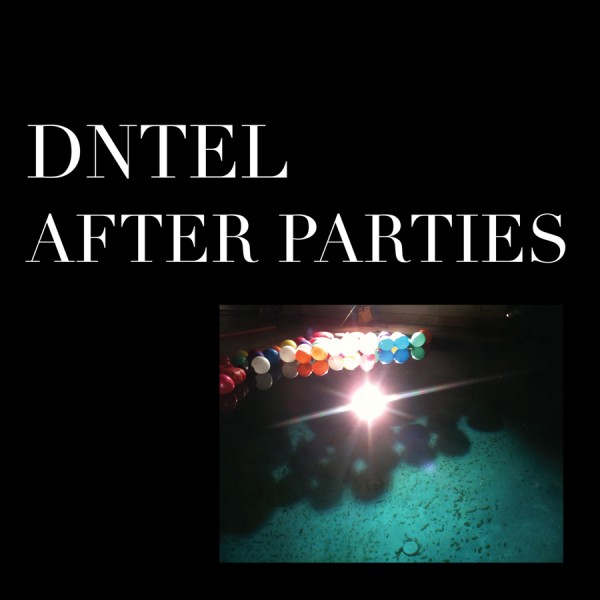 Related to the Art in the Street exhibit, we were chagrined to learn that we had missed an opportunity to attend the Cave of Forgotten Dreams event on April 23rd at the Natural History Museum which was the closing event of the Cinefamily's street art film series and which featured a live discussion with director Werner Herzog and musical performances by Nite Jewel, Islands, White Magic, and  Dntel (aka Jimmy Tamborello of Postal Service).  Tamborello hailed originally from Santa Barbara and records and DJs under the Dntel moniker.  Dntel has recently released a couple of fine new EPs, "After Parties 1" and "After Parties 2."
Check out a couple of Dntel's great new tracks below.
Dntel–After Parties
[audio:https://www.thelefortreport.com/blog/wp-content/uploads/01-After-Parties.mp3|titles=01 After Parties]
Dntel–Flares
[audio:https://www.thelefortreport.com/blog/wp-content/uploads/01-Flares.mp3|titles=01 Flares]
And finally here's a fine new offering from Banksy inspired by recent riots in England prompted by the opening of a Tesco store in Stokes Croft, Bristol.  The poster of a lit petrol bomb emblazoned with Tesco's 'value' logo will be sold to raise funds for the local community groups opposed to the Tesco store.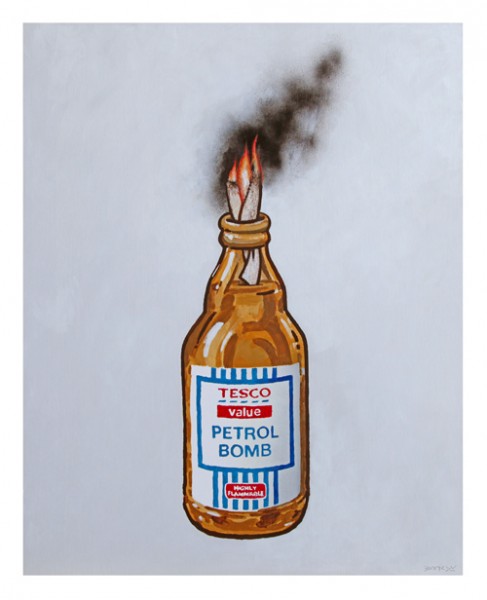 by Lefort in Art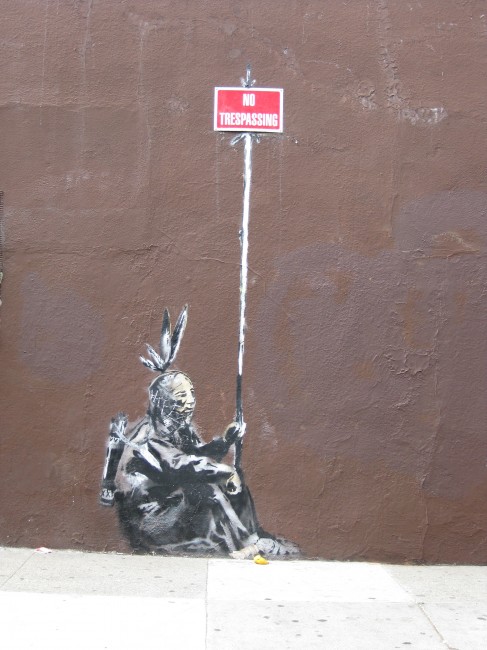 Lefort headed north to San Francisco and environs this week.
On the one hand, there's no better place in North America to slant sensory-overload and synapse-flagellation.  Job well done, SF.   Art, graffiti, bookstores, etc.
On the other hand, we were there for three nights and there was not one (one!) worthy musical show.  Embarrassing, we say.  So praise be to Club Mercy and Santa Barbara's music scene, by comparison.
While we missed the Fisher's largesse at SF Modern Art and the Impressionists at the DeYoung, we had the fortune to stumble upon some cool art, graffiti-style, as rendered recently in the Lower Haight, the Mission and Chinatown by England's phenomenal Banksy.  Check it out above and below.  We particularly liked "Warrior/Chief's" commentary on the forgiven and unforgiven trespasses.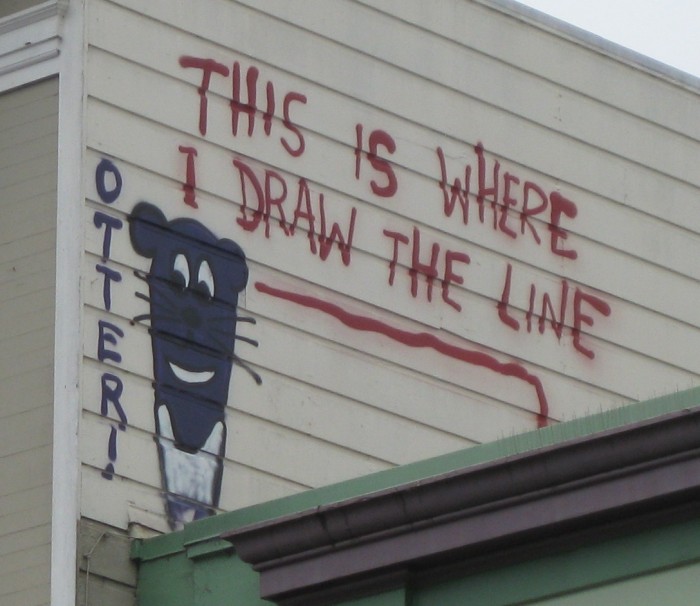 And the line is drawn exactly to here: