April, 2019 Archives
by Lefort in Music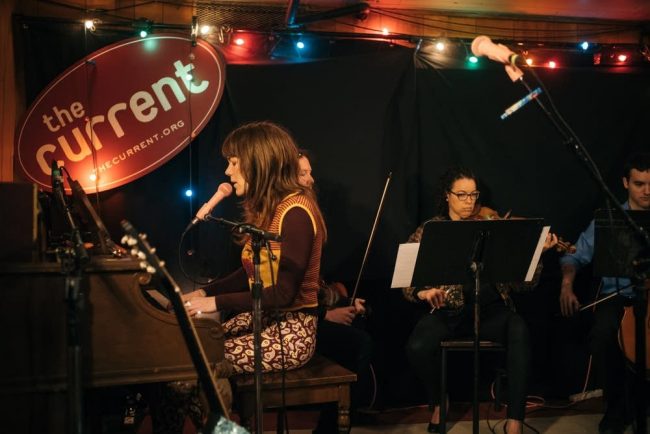 Excuse us, but we have gone down the rabbit hole and been deeply immersed in Jenny Lewis's new album, On The Line, a ten-furlong front-runner for Best Album of 2019 so far. Lewis's new album is stupendously well-crafted and, despite its sing-song melodies, manages to convey a wonderwall of hurt behind its Brill-building facade. Such has been the case with Lewis for over 20 years, beginning with her seminal band Rilo Kiley in 1998, but On The Line shows Lewis at the height of her artistry. Simply put, Lewis is one of the best songwriters and artists extant and deserves every accolade she receives. If you haven't, we recommend you immediately dive deep into On The Line and look out for her upcoming shows (including at San Luis Obispo's Fremont Theater on May 25th) HERE.
To get a feel for Lewis's manifold gifts, check out below the superb unplugged (mostly) performance by Lewis, band and string-players as captured by The Current days after the new album was released. Watch as Lewis commands attention throughout, performing and singing with the feel and vocal aplomb of the likes of Mitchell (Joni), Sinatra and [pick-a-totem-of-taste]. There is magic at every turn.
Lewis answers the set's opening bell wearing a boxer's robe and playing piano on a particularly moving Heads Gonna Roll, and then segues into knowing winks at the camera and plucked/pizzicato strings on the forlorn Wasted Youth. The loping arrangement and her phrasing on Party Clown are beguiling throughout. Red Bull & Hennessy benefits from her crystalline vocals (that high note at 18:58!), the downshifted mien, and guitarist Dylan Day's subtle, note-perfect accents.
As great as the songs are from On The Line, the tour de force here is her cover of Bob Dylan's Standing in the Doorway. With its Joni-like arrangement (circa Hejira/Hissing of Summer Lawns) and vocal- inflections, together with the letter-perfect support on violin, upright bass and guitar, the performance is breathtaking. Dylan Day's solo at the 24:00 mark (wow!) is magnificent in its skilled subtlety. Day even manages to out-channel "the channeler" himself (the other Daniel–Daniel Lanois, who produced the original version of the song for Dylan on Time Out of Mind). The set closes with a stunning, upbeat Rabbit Hole, featuring mostly finger-plucked strings and violin. Honestly, does it get any better?
We can't wait to catch Lewis and crew in May. Brava!
by Lefort in Music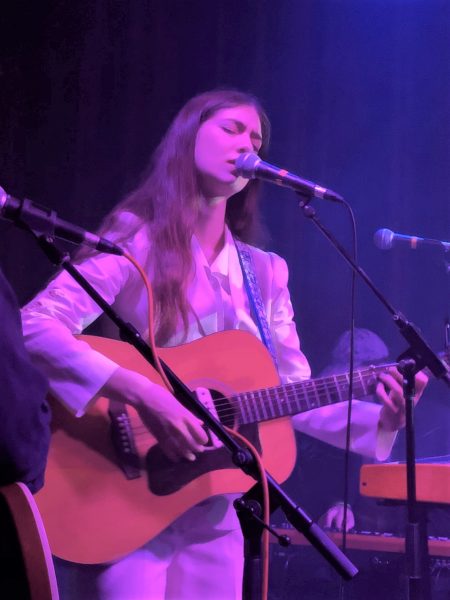 Confession: we here at Lefort have gone from one to 100 in Weyes Blood appreciation in the last 48 hours. While previously only catching snippets of songs and inklings of the oeuvre of Natalie Mering (dba "Weyes Blood"), we have suddenly grown wise to the artistry in Ms. Mering's music. Much better late than never.
At the onset of their big upcoming tour in support, Weyes Blood today is releasing its justly-lauded new album Titanic Rising, and we have been listening to it intently since finally cracking the code. The album is a must-hear, rife with complex, string-laden pop melodies and lush production (think "dreamy" '60s-'70s productions) that manage to deftly tug at your heartstrings. Throughout, Mering rollercoasters lyrically from low heartbreak to high hopes and back again (file under "life"). If you aren't already, get wise to Weyes Blood today via the new album at all the usual sources. You can pick up the preferred vinyl HERE.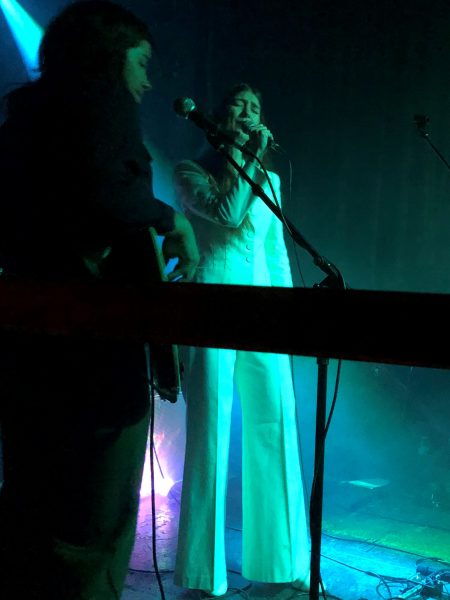 As luck would have it, Ms. Mering came to Santa Barbara Wednesday night and, decked in a bright white pantsuit, held sway at Velvet Jones with a mesmerizing set comprised mostly of songs off Titanic Rising, but also including a couple of older gems and a great cover of the Beach Boys' God Only Knows. While they couldn't possibly match the orchestral majesty of the new album, Mering was backed by a fab foursome of phenomenal musicians/vocalists (apologies for the namelessness) who managed (with Mering) to recreate both the sheen and drive, but also the nuances, of Titanic Rising. An early highlight was the ebullient Everyday (off the new album) with its sunny Mamas & Papas inflections straight outta Canyon (Laurel). Andromeda also swept up the crowd with its Patsy Cline-as-interpreted-by-Aimee-Mann leanings. The emotional Seven Words (from 2016's Front Row Seat to Earth) followed, packing its devastating punch, before ceding to additional melodic masterworks from Titanic Rising. As you can see from Mering's handwritten setlist below, they closed out the set (or so we and she thought) with the serene, expectant "anthem" Generation Why (YOLO why?) to the crowd's delight. So delighted was the crowd that they would not relent and Mering reappeared with acoustic guitar to perform solo her beautiful ballad Bad Magic. You could hear a pin-drop in the venue until she finished her evocative song and the crowd erupted again in appreciation.
Don't miss Weyes Blood the next time they come to a town near you.
You can check out the other dates of their tour and buy tickets HERE.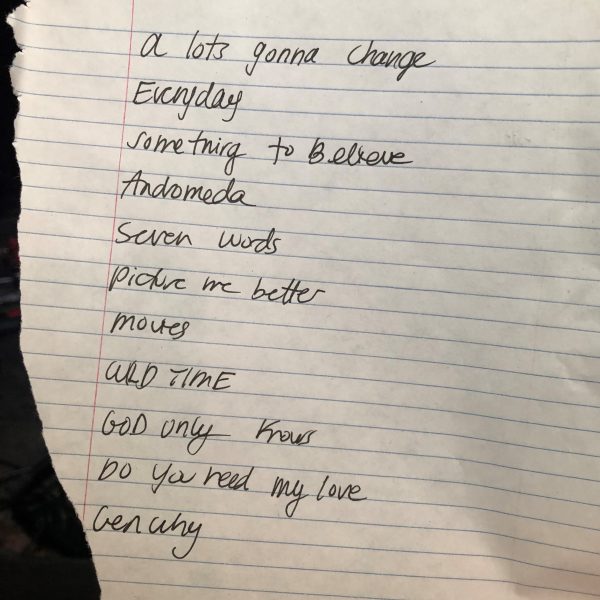 Plus Bad Magic