March, 2020 Archives
by Lefort in Music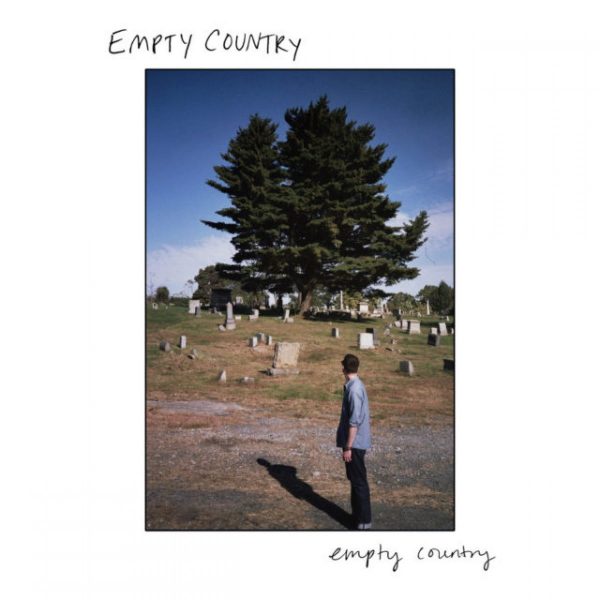 It's been a long, long, long, lonely time. But revival is upon us. Long ago in 2016 we awarded (yet unpublished–the lameness never lets ya down) sadly unsung Philly band Cymbals Eats Guitars, with our awards for our favorite band, album (Pretty Years), song (Finally) and live performance (Swedish American Music Hall in SF) for the year. Apparently as a result, Cymbals Eats Guitars was forced to call it quits. Death knell and all, ya know. But the cognoscenti knew that CEG's leader, Joseph D'Agostino, would not just ride off into that Philly-cheese sunset. D'Agostino has way too much talent and far too many stories to tell.
Enter D'Agostino's new band Empty Country. More than a decade after forming CEG, D'Agostino will soon release the first, eponymously-titled album under the moniker Empty Country. Based on Empty Country's press release we know that D'Agostino wrote, arranged, and produced the album himself (with co-production and engineering by Kyle Gilbride of Swearin'). And the album's stellar first single Ultrasound featured the erstwhile Charles Bissell (of the cultish Lefort-faves The Wrens–honestly has there ever been a better album than The Meadowlands?) on backing vocals.
Since that beguiling intro, Empty Country has released the world-worthy Marian and most recently the stentorian Swim (evidently an acronym for "Someone Who Isn't Me"). Both songs feature D'Agostino's brilliant, literate lyrics (check both at bottom). And Swim's melody immediately grabs you and suckles you with its treacly tones and instrumentation. It is simply a tour de force that's bound to be high on our Best Songs of 2020 list.
According to D'Agostino, Swim is a character sketch, according to "a composite of several people I met or observed while living in Kensington, a neighborhood in Philadelphia gravely affected by the ongoing opioid emergency in the United States. One day my wife Rachel pointed out in passing that some of our neighbors had old faces. She didn't mean "old" in the sense that they were aging prematurely (though some certainly were), but that they had the faces of Dustbowl-era farmers we had seen in books and films. I began imagining a young man suffering from temporal dysphoria (feeling that one was born into the wrong era and strongly identifying with a bygone time), drinking and otherwise numbing himself to tamp down overwhelming anemoia and sadness. Robbing condos freshly erected in adjoining neighborhoods. Doing harm. Blacking out, driving drunk, hurting those he should love, but simply cannot. Dreaming of leaving forever the bricky mazes of row homes that open into wide empty avenues."
Welcome to Swim below, followed by Marian. With these songs as an intro, we can be assured that with their new album, the Empty Country will be filling up our hearts and minds. Stay tuned for more good news from this band.
Swim:
Got a tattoo on my ribcage
Of the second plane hitting
Had it done while I was doing time up in Ossining
Got my game down in the shore towns
With the boardwalk trash
22, I was a blue eyed sociopath
Black out
Often
Not sure
Think I might have hurt someone
Always
Same dream
Moonlight silvering the pine trees
I'm guilty
Maybe you could come and live it down with me
As we're crossing the Walt Whitman
Catch my startled reflection
Don't think I'll ever feel like myself again
I'm an Okie from the '30s
But it's 2020
The black blizzards on the blank prairie
Casing places
Packing the pistol that my dad left me
Tubs of street chalk
We draw messages for yuppies
We're evil, baby
Sorry
I guess some people have to be
Come and live it down with me
Marian:
Drunk and invulnerable
Driving home in the snow
The pike's a time tunnel, honey lamb
Won't bother quitting
Already seen the way it ends for me
The mine collapses in spring of '67
I was a bastard anyway
But feigning tenderness
I left you something dreadful
And you didn't know
She was a blue baby
Hole in her heart
From the start
Came two months early
Call her Marian for grandma
She grows up fast and moves to new Babylon
Watches the plague take her pretty friends
Flash to her middle age
The storm on Jupiter's abating
She's our blue baby
Hole for a heart
From the start
Her whale song wakes me
Reach for your warmth
You know that I am with time, honey
I ain't in time
And I see these arcing streams
Tracing something grander than you can imagine
If you want
I don't mind
I'll whisper the date and time
A phase change
Condensate
Reason to be afraid
Now and then
The light bends
After my accident
'Round a room
Where I hide
In a sea of Virginia pines
A burnt bus
Further in
McDowell County District
I climb up
Take my blade
Start carving the name of my blue baby